Rotary 400HV Red rotation laser
| | |
| --- | --- |
| Article number: | A00458 |
| EAN: | 4627151051093 |
2 years Warranty
Working days orderd before 17:00 hours same day send
Whatsapp your questions to +31-655117271
send a email to [email protected]

Ordered before 4 pm, shipped the same day
Information
ADA Rotary 400HV with red laserbeam
Laser level ADA ROTARY 400 HV is equipped with electronic compensator on servodrives. Due to such construction and method of self-leveling the accuracy of the instrument is ±0,1mm/m and range increases up to ±5°. It provides fast and accurate setting in prescribed point.
Leveling in vertical plane is also made automatically with the help of servodrives due to the sensors of slope.
If the instrument is out of self-leveling range, it stops operate and begins to level with the help of servodrives. Then it continues to operate.
Function of slope adjustment in the planes Х and Y up to 5° allows to plan slopes in horizontal plane in different directions.
Adjustable speed of rotation of laser emitter: from 0 to 600 r/min. The higher speed, the more often laser dot goes through the rod or receiver at a distance from laser level.
Scan mode is used for operation in definite sector. It's necessary when you work with several instruments simultaneously. Laser beam can be moved on the prescribed point.
Receiver is used during operation at large distance. Comes with the instrument. Fix it on the rod and measure on the territory with diameter up to 400 m.
It's very convenient to use remote control in the range up to 20m. It's not necessary to come up to the laser level if you need to change operating modes.
Universal wall mount allows to place ADA ROTARY 400 HV Servo on vertical plane. Screw microlift helps to adjust height. Also with the help of such mount you can place level on the tripod for vertical marking.
This laser level is ideal for horizontal and vertical marking in private construction and during finishing works — for utility lines, wall and floor marking, installation of ceiling and fan systems, for land planning, marking curvilinear surfaces, furnishing of entrances and exits under slope and so on.

  NL-DE-EN
Specifications:
| | |
| --- | --- |
| Accuracy: | 1 mm / 10 metres |
| Range: | 200 m with standard red receiver |
| Working range Ø: | 400 m with receiver |
| Rotate: | 0/150/300/600 rpm |
| Scanning: | 10°/45°/90°/180° |
| Functions | Horizontal, vertical, angle, scanning, TILT, and plumb line |
| Deflection: | 9%  |
| Laser diode: | Class 2, 635nm |
| Leveling range: | 5° |
| Protection | IP54 |
| Weight: | 1,8 kg |
| Power supply: | NiMH battery pack ( replaceable ) |
| Dimensions: LxWxH | 200x200x200 mm |
Including:
- Rotary 500 HV Red 
- Owner's Manual
- Case
- ADA LR-500HV R receiver with staff clamp 
- Remote Control 
- Target
- Laser glasses
- Charger
- 4 x NiMH Batteries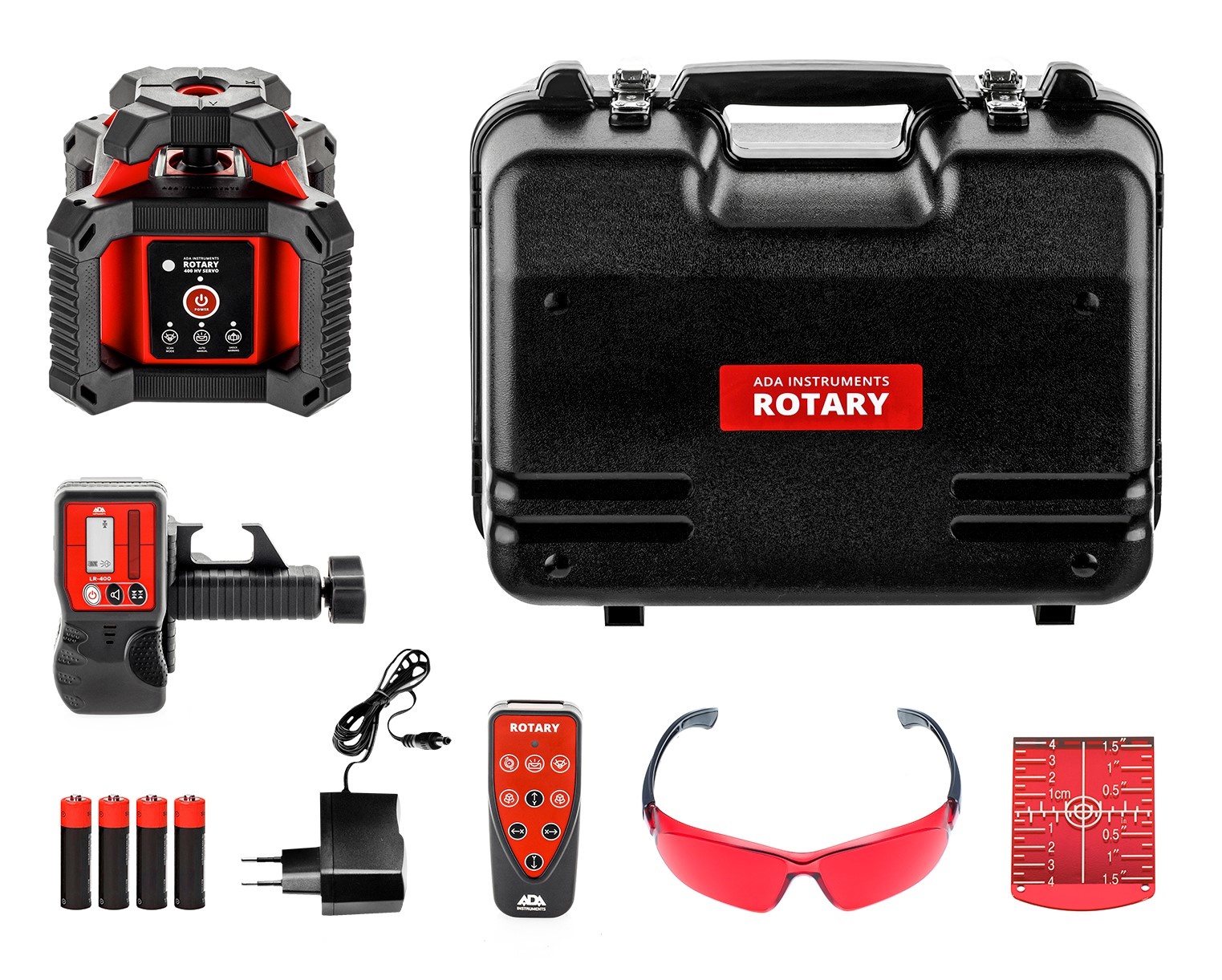 Reviews
No reviews found
Read or write a review